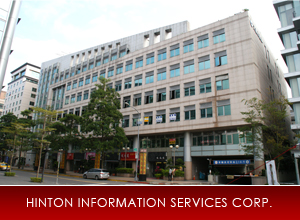 Founded in the year 1987, Hinton Information Services started operation as a cornerstone of providing information solutions in the Asia-Pacific region with presence in Taiwan, China, Singapore, Malaysia, and the USA. Our clientele span academic, government, private sectors in the fields of hightech, architectural and civil engineering, automotive, aviation and aerospace, chemistry, communications, computer science, medical and healthcare, semiconductor devices, etc. Hinton provides executives with critical and reliable information to make well-informed decisions. Providing information services for over 25 years in Taiwan, we have built up a strong database of clients, suppliers, and products as well as a reputation for satisfying our clients' needs. We have accomplished this by providing a flexible and wide-ranging service that allows customers to either subscribe to a large institution-wide database or mix and match their single copy needs.
Our dedicated and highly trained staff manages the three core divisions:
Market Intelligence
Hinton provides market reports and trend forecasts from many of the most respected research firms in the field in order to provide guidance in an increasingly complex and competitive business environment. Hinton is always on the lookout for unique ideas from new, up and coming research articles to recommend to our clients.
Online database Services
Hinton represents many leading online content providers and their products in the Asia-Pacific region, and is widely subscribed to by governmental and industrial research organizations, high-tech research enterprises, and academic institutions. Subscription to many of these databases is foundational to any world-class organization.
Document Services
Fundamental to our service model, Hinton provides a variety of products ranging from books to magazines, journals, standards and regulatory publications, and conference proceedings.